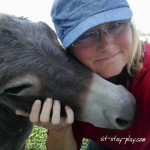 sit-stay-play In-home pet sitting & more.LLC offers farm sitting services and livestock services near Muncie, Anderson, Brownsburg, Hartford City, Albany, Daleville, Yorktown, and most counties in east central Indiana.
Typically, each farm has a variety of needs and because of this, each farm sitting request is customized.
Why Schedule Farm Sitting Services?
Many of our farm clients call us because their children are grown and they don't have anyone to help them take care of their farm anymore.
In the past, when farming was prevalent across the midwest, people could rely on their neighbors to help with farm duties. Nowadays, many of the old time farmers have passed away or have gotten out of the farming industry unfortunately. If their children don't carry on the tradition and there aren't farming neighbors in their area, they are stuck.
Sit-Stay-Play is happy to provide these much needed farm sitting services near Muncie, Anderson, Brownsburg, Hartford City, Albany, Daleville, and Yorktown. We love helping people and getting to know them and their animals.
>>>>Fill out the form at the bottom of this page to get started!
Is Farm Sitting Similar to Pet Sitting?
A farm sitting service is similar to our pet sitting services in regards to the initial consultation, key and payment requirement, scheduling of services and completion of pet care forms. However, in the case of farm or livestock animals, we have different forms to best suit both your needs and ours.
The initial consultation is always important but for farm sitting services, it's even more important. Depending on the types of animals we'll be caring for, we ask that you set aside enough time to walk through everything with us so we see your routine and become familiar AND COMFORTABLE doing the required services.
This consult gives us time to ask questions and take notes.
Our Current Clients Include:
Cows, chickens, horses, donkeys, pot-bellied pigs, goats, alpacas and turkeys

Tasks We Perform Include:
feeding

watering

applying fly spray

administering medication, supplements, minerals and vitamins

rotate animals in pasture/rotate flocks

collecting eggs

cleaning stalls/pens/cages
How Do We Determine Price
Pricing is based on the number of visits per day, the length of the visits and the difficulty of duties.
From a Client…"My husband and I love to travel! We're so happy that we found Kelley because now we can leave our horses, dogs and cats and we don't have to worry about them." Sara & Roger
We'll provide your animals with the best possible care we can give and make sure your property is monitored while you're away. We'll provide periodic updates regarding your home and your animals. 
If you have livestock or farm animals near Muncie, Anderson, Brownsburg, Hartford City, Albany, Daleville or Yorktown that you need farm sitting service, be sure to contact us to set up a consultation as soon as possible.
***Please contact us for current pricing. All rates & services listed are subject to change without notice.
Thank you,
Kelley Stewart, CEO|Pet Sitter
sit-stay-play In-home pet sitting & more.LLC